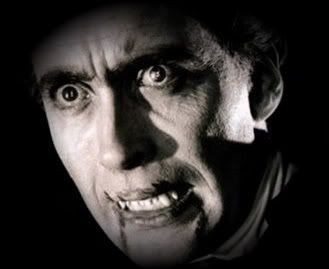 A lot can pass for horror – in some hindi films that is. And I don't mean the acting or the direction or the just plain bad script/story/dialogue. Yes, they scar the soul and probably traumatize you for life ; I write this from my shrink's office waiting for my next appointment where she (the shrink) will attempt to find out why being a Hindi film critic is injurious to one's mental health.
But my terribly sad story aside, when I mean horror I'm being strictly technical – horror, as in the spine-tingling, chilling emotion, when you watch a film, eyelids minced together, peeking through your fingers and hands firmly clapped to your face. But, sadly (or horrifyingly if you prefer it) there is little of it in Indian cinema. Truly, when it comes to Indian films, horror is a second-class citizen. We either all roll our collective eyes at the superstitious mumbo jumbo so abundantly found in traditional Indian horror, or laugh out loud at the creatures that populate it. The horror genre has been around quite a while, but unlike drama or romances, it hasn't quite developed into something better.
Horror in Indian cinema is naturally derived from it's rich folklore. Plentiful all around the country, the beauty of folklore is that it is amorphous, ever-changing, and names no authors. Thus there many stories which sort of just "float" around, about haunted havelis, and injustices done. They might be rumors, things just "heard" from a passer-by, or tall tales passed down from generations, but they comprise a set of stories which inspire film-makers. There are creaky gates, evil zamindars, and beautiful, ghostly women.
Deriving as it does from the supernatural, and mired in folksy superstition, the horror genre has had a presence in numerous languages. "Bhool bhulaiya" in fact was a remake of the 1993 Malayalam film Manichitrathazhu and starred Shobhana and Mohanlal. There are other examples in South-Indian cinema, like the 1984 Tamil film Nooravathu Naal, which was inspired by the Italian Giallo genre of films. In it a young woman has mysterious flashbacks where she can see murders being committed. This film was remade in Hindi as "100 days" and starred Madhuri Dixit. Another big star Rajnikanth starred in the 2005 film Chandramukhi, which dwelt upon the haunted haveli theme. Also inspired by the super-natural was the 2004 Marathi film Pacchadlela, which starred Shreyas Talpade.
Hindu philosophy has much to say on the phenomenon of re-birth, or as Bollywood filmmakers will have it, re-incarnation. From the 1949, Kamal Amrohi film Mahal, which catapulted Madhubala to stardom, to the Rishi Kapoor starrer Karz, and it's most recent remake "Om shanti Om", the story of a tortured soul hanging around waiting for vengeance has inspired many a filmmaker.
While that's all well and good, times they are a-changing. Modernity has seeped in, spawning our very own uniquely Indian whackos (move aside Norman Bates). From the good-looking young man who can't stop stuttering K-k-k-k-kiran (Darr), to the deranged co-worker who's jealous of the hero's wife (Pyar tune kya kiya), harmless looking psycho Cyrus (Being Cyrus) and the tremulous young woman all alone in the house and scared to death (Kaun), psycho-horror is one horror sub-genre doing well in current day cinema.
Indians are tale-spinners. Grand-mothers and mothers tell us bedtime tales. And then in the filmi context, friends do it too. Sitting by the fire, at an appropriately deserted camping spot, each friend tells spooky tales to scare the others. Which is not a problem really, unless you have to answer the call of nature. In the woods. All by yourself. Remember "Darna mana hai" ?
Traditionally Indian cinema has been dismissive of the horror genre, considering it B-grade (almost like Hollywood). But while horror outside India has come of age, being absorbed into the mainstream (Aliens, Jaws, Constantine) desi horror never did find it's place. Although Indian cinema excels in many categories, and newer and talented directors seem to be sprouting out of the woodwork with unfailing regularity, horror is not the fine art it could be. Apart from the horror-thriller genre which has been absorbed into mainstream Hindi cinema, and directors like The Ramsay brothers and Ram Gopal Verma who have done their bit, horror does not seem to have much attention paid to it.
Indian horror has also been inspired by Hollywood films. Where Desi horror is yet limited in it's scope, Hollywoodian horror has many sub-genres, like "scientific" horror, or "armageddon" horror. And Hollywood is prolific, whereas Indian horror films are a handful per year, if that. In 2008, for example there was one horror film – Phoonk. In 2009, we had "Raaz – the mystery continues" and "13B", which was released in Hindi and Tamil, and featured Madhavan. In 2010 so far, there's been only "Click". Phoonk 2, and Shaapit are slated for later.
Many of Hollywood's earliest horror films fall into the "personality" horror, or "demonic" horror category. Traditional horror films in Hollywood featured demons, werewolves, zombies and vampires. The 1975 film Omen dwells upon the AntiChrist. There was also the 1982 Poltergeist and Wes Craven's "Nightmare on Elm Street". Skilled directors working in horror have given the genre some credibility. Steven Spielberg brought horror elements like gore and splatter, into a mainstream film like Jaws(1975). The classic Alfred Hitchcock film Psycho (1960) brought about horror via Freudian psychology, whereas The Birds (1963) was inspired more from the horror of "catastrophe" or Armageddon.
In the 1990s and the 2000s, horror returned to the slasher/splatter sub-genre – "I know what you did last summer" being a prime example. There was also 7, Saw, The Blairwitch Project, and Wes Craven's Scream. Directors have remade old classic horror films like "Friday the 13th" and the recently released Wolfman (2010). And "realistic" horror has made a comeback – in "Paranormal activity" a young couple rigs up a camcorder to show the super-natural happenings in their apartment.
Horror well-done is scary stuff. Bring it on !
Note : The edited version of this post was originally published in the Deccan Herald, here.