Recently saw Kaifi Aur Mein, the play based on Shaukat Azmi's book and memories of Kaifi. The "play" is performed by Shabana Azmi and her husband Javed Akhtar. And I put the "play" in double quotes, because it is less of a play and more of a poetry/memoir reading, with Shabana reading her mother's parts, and Javed Akhtar giving voice to Kaifi's thoughts and shayari. Interspersed with the reading is music, i.e.; songs which have as lyrics Kaifi Azmi's poetry.
Since this was advertised as a play, I hadn't actually expected that the two "performers" would sit at desks the whole 2 hours. They do. Their desks were arranged close to each other, on the left side of the stage. To the right, on a low platform, sat the musicians with their instruments, and singer Jaswinder Singh. The reading itself was interesting, and the book probably would be a pleasant read. Shabana Azmi looked really pretty in her pink sari and done-up hair, and she made the lines she spoke come to life; such is her artistry! Her reading was also more fun because Shaukat's lines were lively, playful and humorous.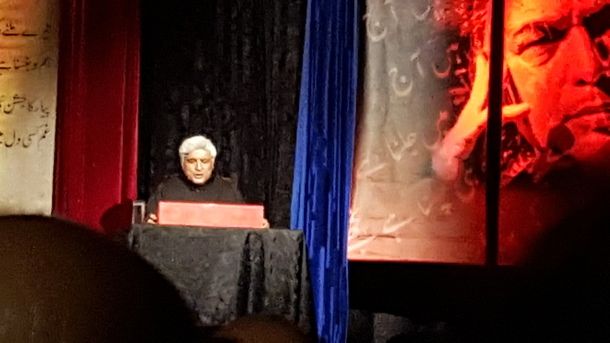 Javed Akhtar is a better scriptwriter than actor; Farhan probably gets his acting chops from his mother :-). I didn't care much for Akhtar's reading. At times he spoke too fast, and remember that this is chaste Urdu, which in his hurried and garbled reading, whizzed right by me without sinking in. Post-interval (they broke for 10 minutes) his reading got better; am assuming Shabana had gotten to him.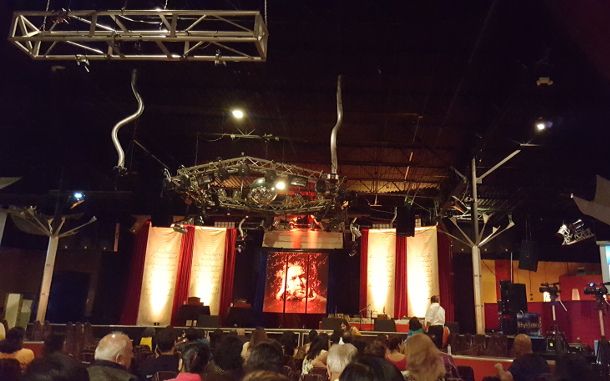 The music was provided by singer Jaswinder Singh and a handful of other musicians. Singh is a good singer and the songs he sung were beautiful in themselves. The event venue, which also doubles as a banquet hall (i.e.; no stadium seating), hadn't the best acoustics, so we didn't quite get the full benefit of his voice. There were a few more annoyances – the show started an hour later than advertised, which was pretty tiresome considering I'd rushed straight from work to make it in time! Then there was the fact that they decided to charge us for parking, parking that was in the middle of a strip mall and essentially free.
In theory, I look forward to hatke events of this kind, which don't give you the standard Bollywoodian singing/dancing. Post-watch though, I've got to say, that although nice and a refreshing change from the usual "show", this was a little too static and lacking in energy for me.