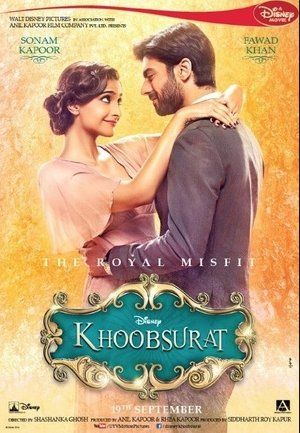 Rating : Average (2.5/5)
Genre : Drama
Year : 2014
Running time : 2 hours 7 minutes
Director : Shashanka Ghosh
Cast : Sonam Kapoor, Fawad Khan, Kirron Kher, Ratna Pathak-Shah, Aamir Raza Hussain
If you read my post previewing "Khoobsurat", you might recall that I used the word "nausea-inducing" in there. Now, don't go getting all worried, because that would be looking at the glass half-empty. Even so, I must be developing prophetic powers, because this film did indeed cause me to throw up in my mouth. A little. Or maybe it's GERD; that's my optimism kicking in.
Khoobsurat is a modernized version of the 1980 version, starring Rekha and Rakesh Roshan (for all you young ones, that's Hrithik Roshan's dad). That Khoobsurat had Hrishikesh Mukherjee's stamp all over it, meaning it was light-weight and fun. This modern-day version alas, is not a patch on that one.
Physio-therapist Dr. Mrinalini "Mili" Chakraborty (Sonam) lands up at the Palace, to help Raja Shekhar Singh Rathore gain better use of his legs. The Palace and estate is run efficiently by Rani Nirmala Devi Rathore (Pathak-Shah) who's a stickler for punctuality, order and restraint. Impulsive Mili Chakravarty is the un-royal misfit in the palace as she runs around giggling and knocking various antiques over. She wants to call the sari-ed and pearl-ed, butter-won't-melt-in-her-mouth Rani-Sa "Aunty" and her handsome son, Prince Vikram Singh Rathore "Viku". Viku is a little more amenable to the flippant title than his mother. Of course he is engaged to the lovely Kiara (Aditi Rao Hydari in a fleeting role), so the "friendship" with Mili won't really count.
I'm all for romantic stories; I adore "Pride and Prejudice". The Khoobsurat tale is a spinoff of the old P&P, because there's a meeting of two very different people, temperamentally speaking of course. There's unrestrainedly passionate Mili, and the rather reserved Prince Vikram. Opposites attract . . . blah, blah, blah. Sonam fits the role to a T here, and Fawad Khan doesn't do a bad job either. So whither the problem?
Disney, me thinks. When every scene (I kid you not) starts with pip-squeaky, Disney-ish music which makes me wonder whether I'm watching "Tom and Jerry" instead of a made-for-adults movie, it gets a little tiring.  And I have no problems with Mili being impulsive and giggly but does she have to be brainless and perpetually-dressed-in-primary-colors too? I mean, I get the part about fluff, but too much of a good thing . . .
Vikram's character is all bearded and solemn, and styled with a hair "puff" that could serve as a bird shelter in the rain (they'd have to really small birds, but still). Fawad Khan  looks and acts severe but I didn't detect any chemistry between the two. And that's the problem with the film, it is an idea, but there isn't substance to it. There are no real scenes where one is tempted to believe that they are really falling in love.  But then that's just me – the gaggle of teenagers seated in the row behind me didn't seem to agree. They were practically swooning every time a romantic scene ensued on screen. How could I tell? From all the exclamations and the gasps that emanated from them – they were very vocal. The supporting cast – Ratna Pathak-Shah, Hussain and Kirron Kher are great. Kher as Mili's mother Manju, who's played the overwrought Punjabi Ma role umpteen times, still manages to infuse this version with some joie de vivre, and that's a miracle in itself.
In summary, Khoobsurat is a little bit of brightly colored sugary fluff, taken to ridiculous heights (not a compliment) by the combined "talents" of Disney and Anil Kapoor Films. I'm sure they'll be raking it in, because films like this do very well. I could just about tolerate it, and you might agree if you are as jaded as I am, or not a teenager.
I predict a hit.
Kidwise : Clean. Some kissing, but decently done. No vulgarity and nothing obscene, which is nice. Very kid safe.